"Royal Swiss ASBU" in Tunis is the first hotel of Swiss International Hotels & Resorts to open in Tunisia.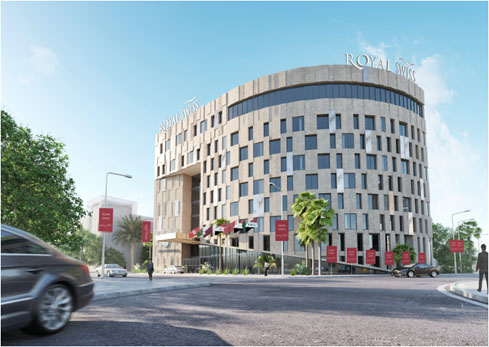 Swiss International has entered into a license agreement with Trinity Hospitality Sarl for the luxury hotel, Royal Swiss ASBU in Tunis. The hotel is scheduled to open its doors on the 1st of October 2021.
The Royal Swiss ASBU is strategically located in Tunis in the Zone Urbaine Nord, an administrative and business area at a 5-minutes' drive from the Tunis Carthage International Airport and 10-minutes' drive from the city center. The hotel is surrounded by business and administrative buildings and is a 2-minutes' walk to the ASBU head office. 
The hotel has 142 rooms and suites and is complemented by Swiss International Hotel & Resorts' signature concepts; the Swiss Flavours Restaurant & Lounge, the TED & Co Bar and Lounge, the Moods Shisha Lounge, Eventives Meetings & Events venues, the Swiss-Select members Lounge, and the Inspirations Spa, Inspirations Pool & Inspirations Gym.   
Tunis is the capital and the largest city in Tunisia and is located between the eastern and western part of the beautiful Mediterranean Sea. The city is also popularly known as a cultural hub with the Medina, Museums, and a rich history that is highlighted in the streets.
Mr. Henri W.R. Kennedie, the President and CEO of Swiss International said, "The opening of our new Royal Swiss ASBU in Tunis is a strategic decision." Mr. Kennedie further explained that "With our luxury hotel brand now present in North Africa, we are looking forward to introducing our Swiss way of luxury to Tunis and the Tunisian market at large. We are very well aware of the COVID-19 situation, and we have taken all precautions to ensure the maximum of guest safety in all of our hotels"
"Swiss International's vision is to be different and recognized; this is exactly what Royal Swiss ASBU will bring to the hospitality atmosphere in Tunis." said Mr. Slim Ghachem, the acting General Manager of Royal Swiss ASBU. He further added that "With Swiss levels of hospitality we are confident that we will create memorable experiences forward to welcoming guests to the hotel."
Royal Swiss ASBU is the chain's first hotel in Tunisia.
About Trinity Hospitality S.a.r.l
Trinity Hospitality is a Tunisian company with limited liability, organized under the laws of Tunisia, and having its registered office in Avenue du Yen, Les Berges du Lac Tunis, Tunisia, herewith legally represented by Mr. Slim Ghachem.