Swiss International and Unicorn Prestige sign a franchise agreement for a new 350 luxury hotel at the Allama Iqbal International Airport in Lahore, Pakistan.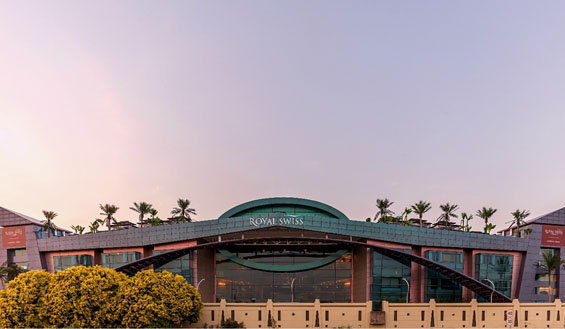 Swiss International and Unicorn Prestige are both proud to announce that today they signed a Franchise Agreement for the luxury hotel, Royal Swiss Lahore. The hotel is nearing its construction completion and is scheduled to open its doors in March of 2019.
Royal Swiss Lahore is strategically located at just 500 meters from the Allam Iqbal International Airport in Lahore, Pakistan. Along with its 350 rooms and suites, the hotel will be complemented with the Swiss International's signature concepts; the Swiss Restaurant & Lounge, the Noodles & Rice, the TED & Co – Bar & Lounge, the Moods – Cigar Lounge, the Swiss Select Lounge, the Swiss Café Leafs & Beans, 7 Eventives Meeting venues,, the Inspirations Pool & Gym and a World-Class Spa. As a Royal Swiss, the property will express sophisticated luxury for travelers seeking state- of-the-art facilities and services in a refined and elegant environment.
Unique to the destination, the Eventives Meetings & Events venues, at the Royal Swiss Lahore will host from 500 people and up to 2,000 people in its modular sound- proofed hall. These venues are ideal for small to large meetings, conferences, weddings, exhibitions, amongst other events.
The Royal Swiss Lahore will open its doors during the time that the Pakistan Civil Aviation Authority (CAA) is earmarking the expansion and modernization of the Pakistan's second largest airport, Allama Iqbal International Airport (AIIAP), to meet the growing passenger needs during the course of the next 20 years.
Scheduled to commence at the end of 2017, the expansion and reconstruction will make Allama Iqbal Airport the largest airport in the country. The expansion is expected to increase the annual passenger handling capacity of the airport from 4.5 million to more than 25 million passengers. It will also enable the airport to operate more international flights.
Lahore is the capital city of the Pakistani province of Punjabi and the country's most populous city after Karachi. With a GDP $127 billion recorded in 2017, and also popularly known as the 'City of Gardens' because of its many parks and gardens, Lahore is one of Pakistan's wealthiest cities.
Mr. Jameel Abbas, the CEO of Unicorn Prestige Limited and of the owning company of the Royal Swiss said, "We have spent several years on the concept development and construction of this unique hotel. When we learnt about the Royal Swiss brand of Swiss International Hotels & Resorts, we were convinced of luxury combination of both the hotel and the Royal Swiss brand."
Mr. Qaseem Naqvi, the Director of Unicorn Prestige further went on to say that "With the exposure from a brand like Swiss International, we are positive that the Royal Swiss Lahore and Swiss International will open the beautiful city of Lahore to the world."
Mr. Henri Kennedie, President & CEO of Swiss International, expressed his confidence in the success of the hotel, following the signing of the agreements with Unicorn Prestige stating that, "With a GDP OF $127 billion recorded in 2017 and in Lahore alone along with the expansion of Allama Iqbal International Airport, the city promises to be committed to the future of Lahore and Pakistan. We are entering the market in Lahore with a brand, Royal Swiss, that we believe will service the market well. We are very proud to have been selected as the hotel partner of Unicorn Prestige."