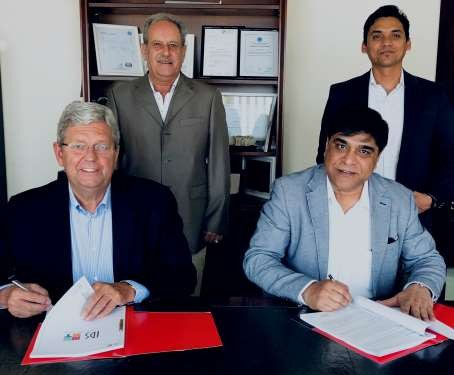 Ras Al Khaimah (UAE)/Baar (CH)/Bangalore (IN), 05th of July, 2018: Swiss International Hotels & Resorts and IDS Next Business Solutions Pvt. Ltd, a global leading hotel technology solutions provider announces that they have entered into a global agreement today.
With this partnership, IDS Next Business Solutions Pvt. Ltd will provide its hotel ERP technology solutions to Swiss International Hotels & Resorts. With its solid presence in Africa, Asia, Europe and the Middle East, Swiss International has 15 hotels currently in operation with a healthy pipeline of new hotels under development across these regions.
IDS Next's hotel ERP solution will facilitate in streamlining operations, in managing the distribution and managing the revenues efficiently, while improving both the guests' and the hotel users' experiences for the hotel chain.
Mr. Binu Mathews, the CEO of IDS Next said, "We are delighted to welcome Swiss International to the IDS family. With Swiss International's experience in hospitality and IDS Next's rich technology expertise of 30 years, we are confident that we have a winning partnership for both of our organizations. With our presence in the Middle East, Africa and Asia regions and we see the partnership contributing to our growth potential globally."
"We are pleased to enter into the agreement with IDS Next, a company which we have recognized as one of today's leading hospitality technology provider", said Mr. Henri Kennedie, the President & CEO of Swiss International. "With IDS Next's complete and integrated solutions, we are confident of offering superior guests' experiences and improve the overall operational efficiency for our hotels."
IDS Next Business Solutions Pvt. Ltd
IDS Next Business Solutions Pvt. Ltd is a globally leading hotel technology solutions provider with decades of unmatched domain expertise. Being pioneers in Hotel ERP architecture, the company's forte lies in providing unparalleled technology solutions for hospitality properties across categories. With unrivalled domain expertise, its USP lies in creating solutions that help hotels increase revenues, optimize costs and above all provide enhanced guest experience.
IDS Next fully understands emerging markets, and its high growth needs. IDS Next's offerings include integrated hotel management software, restaurant management software, back office solutions, mobile apps and mobile analytic solutions, business intelligence tools etc.
IDS Next's software and technology solutions have earned the trust of over 4800 hotels in 45 countries spread across South Asia, South-East Asia, Africa, Middle East, Oceania, Sri Lanka & Maldives. A truly dedicated 24/7 support center ensures 98% retention of customers and unmatched customer satisfaction.
For more information: www.idsnext.com